Nigel Collyer is an independent musician who creates instrumental and vocal music. He writes, plays and produces original material from a small project studio in Sussex, England. During the music making process he sings, plays guitars, bass and keyboards; though rarely all four at the same time. His varied musical style comes from a melodic pop and rock angle, with the occasional brush of experimentation.


All Of The Above
The debut album from Nigel Collyer.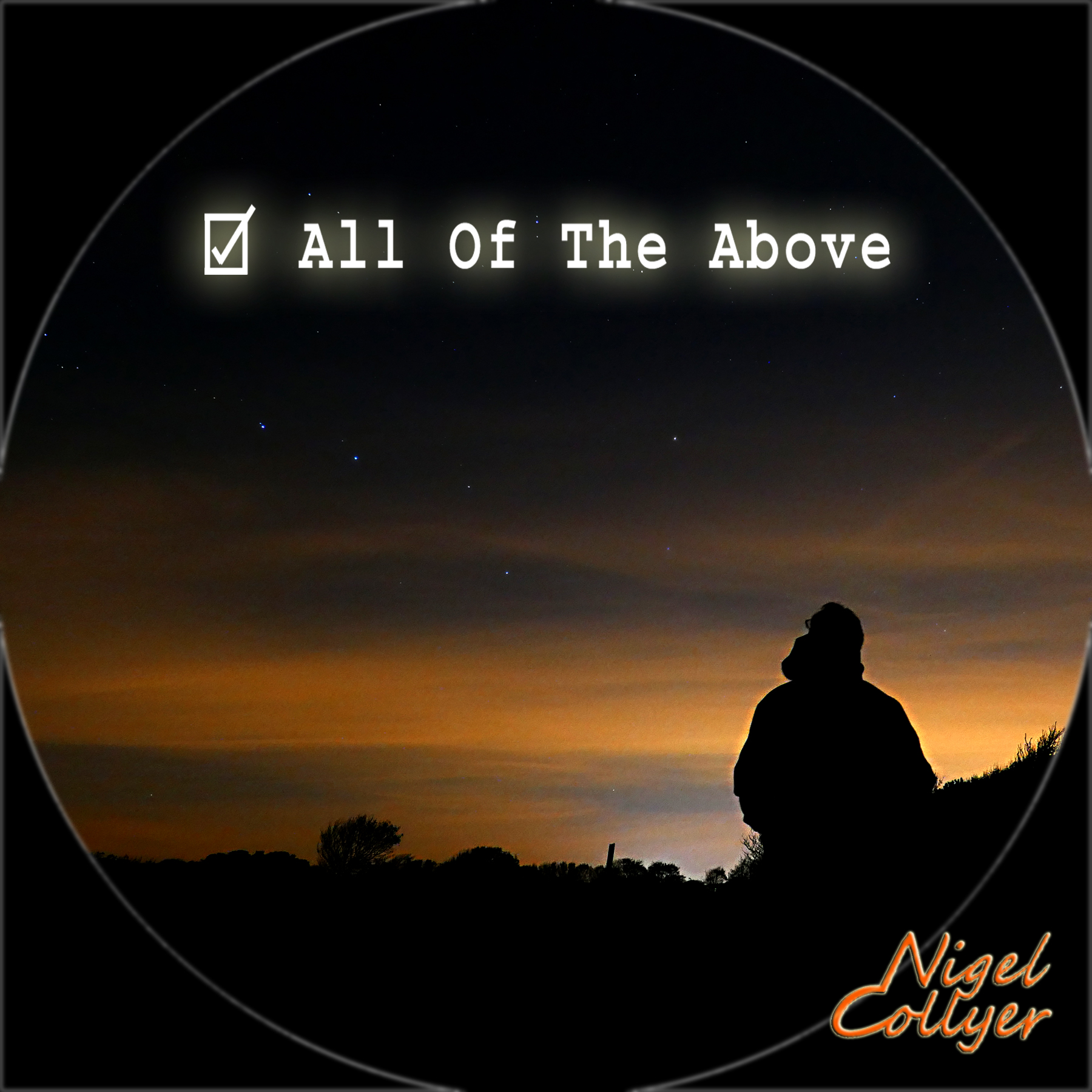 Track Listing
  1 Lee Van Cleef
  2 Summer Days Gone By
  3 For All Mankind
  4 Georgia Parts 1 and 2
  5 A Blameless Life
  6 Highdown Hill
  7 Climb The Ladder
  8 Vincenzo
  9 Behind The Blinds
  10 Ocean's End
With material ranging from Spaghetti Westerns and space exploration to obsession, combined with relaxing instrumentals, All Of The Above gives you a variety of stuff to think about.
Lee Van Cleef - Spaghetti Western Art Rock - a tribute to all things good, bad and ugly.

Summer Days Gone By - An instrumental attempt to bottle childhood holiday memories.

For All Mankind - It's great we're reaching for the moon again. But we need to be careful what we wish for and treat the nearest neighbour with respect.

Georgia Parts I and II - Instrumental. She's your favourite place, person or thing. A little quiet and shy to start with; a bit of a live wire once you know her.

A Blameless Life - Fred was essentially a good guy who got caught doing something he shouldn't have. A sad tale set to a country shuffle.

Highdown Hill - Instrumental. Up on the hill we run into some stormy weather as we approach the Miller's Tomb.

Climb The Ladder - If there's a certain situation holding you down, try to rise above it to get where you want to be. Eventually you'll be able to climb the ladder and then kick it away.

Vincenzo - He made such a difference to our lives. We miss him so much.

Behind The Blinds - Beware the neighbour with a dark obsession. Some late Seventies New Wave with bluesy bits thrown in for good measure. I'm calling it Blue Wave.

Ocean's End - An uptempo instrumental to groove your waters. Will we ever find the Ocean's End?

To listen or buy music, visit www.nigelcollyer.bandcamp.com
email: music@nigelcollyer.uk
Copyright Nigel Collyer 2017. All rights reserved.